Have you ever wondered how celebrities manage to look so poised, confident and graceful on the red carpet, on stage or on screen? How do they cope with the stress, pressure and demands of their profession? How do they avoid injuries, pain and fatigue from performing repetitive or strenuous tasks?
One of the secrets that many celebrities swear by is the Alexander Technique, a method of improving posture, movement and breathing that has been around for over a century. The Alexander Technique is not a form of exercise, therapy or meditation, but rather a way of learning to use your body and mind more efficiently and naturally. It teaches you to become aware of your habits and patterns of tension that interfere with your performance and well-being, and to replace them with more ease, balance and coordination.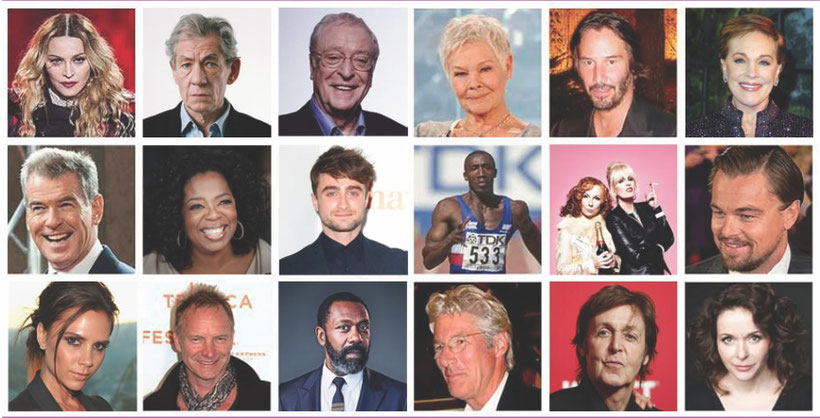 Benefits for Performers
Today, the Alexander Technique is widely used by actors, singers, musicians, dancers and athletes who want to enhance their skills, prevent injuries and express themselves more fully. Some of the celebrities who have trained in or used the Alexander Technique include Margo Robbie, Madonna, Oprah Winfrey, Daniel Radcliffe, Hugh Jackman, Richard Gere, Joanna Lumley, Sir Paul McCartney, William Hurt, Pierce Brosnan, Sting, Jamie Lee Curtis, Jennifer Saunders, Ruby Wax, John Cleese, Robin Williams, Judi Dench and Keanu Reeves. They have praised the technique for helping them with various aspects of their work and life, such as: 
Enhanced Performance: Celebrities, especially actors, singers, and dancers, depend on their bodies and voices to perform at their best. The Alexander Technique's emphasis on proper alignment and breathing techniques helps enhance their physical and vocal capabilities, leading to improved performances.
Stress Reduction: Leading a celebrity lifestyle often involves high-pressure environments, demanding schedules, and media scrutiny. The Alexander Technique's mindfulness and relaxation techniques provide valuable tools for managing stress and maintaining composure.
Injury Prevention and Recovery: For celebrities, injuries can result in costly production delays and canceled tours, affecting both their careers and finances. The Alexander Technique's focus on body awareness and gentle movements aids in preventing injuries and can also support rehabilitation after accidents.
Ageless Grace: Celebrities are under constant pressure to maintain their youthful appearance. The Alexander Technique promotes natural poise and balance, contributing to an ageless and graceful presence, which is highly desirable in the public eye.
Notable Celebrity Advocates
Several well-known personalities have publicly endorsed the Alexander Technique and attributed their success, health, and personal growth to its practice. 
Hugh Jackman: The talented actor best known for his portrayal of Wolverine in the X-Men series has spoken openly about how the Alexander Technique helped him maintain the physical demands of his action-packed roles. 
Victoria Beckham: The Spice Girl and fashion designer hit the mainstream news in 2009 after it was revealed she was taking Alexander Technique lessons. She had become concerned that in photos she looked slouched, had a hunched-back posture and rounded shoulders. Years of wearing high heels had also taken their toll. She became a devout student practicing on a daily basis.
Sting: Being both a singer and a bass player is physically and mentally demanding, Sting found his Alexander Technique lessons so useful that he even took his teacher on tour with him to help him with the rigors of being a touring musician and performer.
Madonna: As a pop icon and performer, Madonna has relied on the Alexander Technique to improve her stage presence, reduce stress, and manage the physical demands of her world tours.
Jennifer Aniston: The beloved "Friends" star has credited the Alexander Technique for improving her posture and overall well-being, both on and off the screen.
Paul McCartney: The legendary musician has praised the Alexander Technique for its positive impact on his voice and musical performances and funded a film on the Technique in the 1970's.
Celebrity Quotes
"I find the Alexander Technique very helpful in my work. Things happen without you trying. They get to be light and relaxed. You must get an Alexander teacher to show it to you".

Hugh Jackman, actor

 

"The Alexander Technique is a way to transform stress to joy"

Juliette Binoche, actress

 

"With the best intentions, the job of acting can become a display of accumulated bad habits, trapped instincts and blocked energies. Working with the Alexander Technique has given me sightings of another way... Mind and body, work and life together. Real imaginative freedom..."

Alan Rickman, Actor

 

"The Alexander Technique makes a real difference to my often tense and busy life. Its thoughtful approach has made me calmer, improved my concentration and given me a clearer sense of my own well being. I am grateful for it."

Joan Bakewell, TV Presenter and Journalist

 

"The Alexander Technique helped a long-standing back problem and to get a good night's sleep after many years of tossing and turning."

Paul Newman, actor

 

"The Alexander Technique really works. I recommend it enthusiastically to anyone who has neck pains or back pain. I speak from experience."

Roald Dahl, author 

 

"I was dubious about the effects of the Alexander Technique when I first went in to experience it, but I found out almost immediately that the benefits were total - both physically and mentally - and, happily, have also been long-lasting."

Joanne Woodward, actress

 

"The many obvious benefits that the technique afforded us as actors included minimised tension, centredness, vocal relaxation and responsiveness, mind/body connection and about an inch and half of additional height. In addition, I have found in the ensuing years great benefits in my day to day living. By balancing and neutralising tensions, I've learned to relieve as well as to avoid the aches and pains caused by the thousands of natural shocks that flesh is heir to."

Kevin Kline, actor

 

"The Alexander Technique has helped me to undo knots, unblock energy and deal with almost paralysing stage fright." 

William Hurt, actor. 

 

"In the hands of a good teacher the Technique is invaluable to anyone who seeks to maintain health physical posture and alignment."

Ralph Fiennes, Actor

 

"Alexander Technique really helped my posture and focus during my stint as Othello... Imagine how excited I was when arrived at the National Theatre for Comedy of Errors and found I could have Alexander taught to me once a week, I was chuffed to little meatballs."

Lenny Henry, Comedian and Actor
Conclusion
The Alexander Technique's popularity among celebrities is a testament to its effectiveness in helping them navigate the pressures of fame while maintaining physical and emotional balance. Its emphasis on self-awareness, stress reduction, and performance enhancement aligns perfectly with the demands of celebrity life. As more public figures continue to embrace this technique and share their positive experiences, it is likely that the Alexander Technique will remain a celestial trend in celebrity circles for years to come.
You don't have to be a celebrity to enjoy the benefits of the Alexander Technique. You just have to be willing to learn something new about yourself and your potential. As F.M. Alexander said: "You can't do something you don't know if you keep on doing what you do know"