As Halloween approaches, it's the season of spooky tales, mysterious transformations, and eerie behavior. While you might be thinking of ghouls and goblins, there's another transformation worth examining this Halloween - the tale of Dr. Jekyll and Mr. Hyde. Surprisingly, this classic story can offer some valuable insights into the world of posture and the Alexander Technique.
The Dual Nature of Posture
Dr. Jekyll and Mr. Hyde are iconic figures embodying the concept of duality. In a way, posture is similar - it's the duality of how we present ourselves physically and how we behave. Let's delve into how posture and the Alexander Technique relate to these two fascinating character.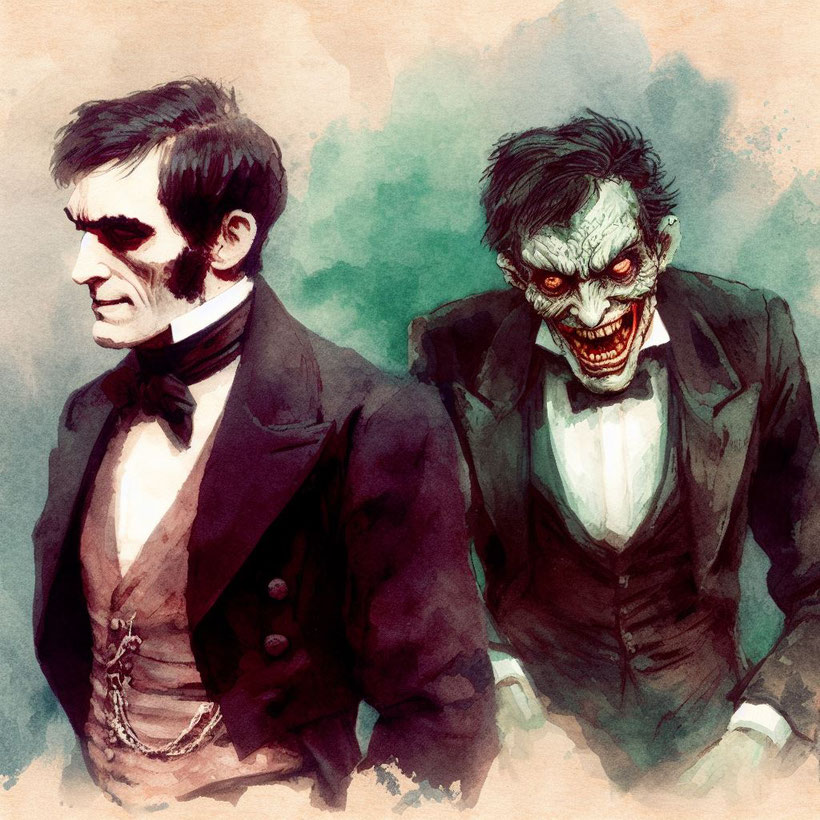 Dr. Jekyll: The Upright Ideal
Dr. Jekyll, the well-mannered, respectable scientist, represents good posture and behavior. He stands tall, exuding confidence and grace. Much like the principles of the Alexander Technique, Jekyll's posture is well supported, balanced, and at ease. This natural deportment allows him to move with poise and fluidity, showcasing his inner harmony and balance.
Mr. Hyde: The Hunched Antagonist
On the other hand, Mr. Hyde is the embodiment of bad posture and destructive behavior. He's stooped, shifty, and unpredictable. His posture reflects his inner turmoil and unease. It's as if the weight of his sinister deeds is literally dragging him down. This serves as a stark example of the impact of poor posture on our overall well-being, and how it's a reflection of the quality of our thinking. This is a central theme of the Alexander Technique, the body and mind aren't merely connected, they're an indivisible functional whole.
The Alexander Technique: The Potion for Transformation
Much like Mr. Hyde's transformation back into Dr. Jekyll, we can transform our posture from monstrous to good using the principles of the Alexander Technique. Here's how it works:
Awareness: The first step is to become aware of your current posture. Notice any tension, slouching, or discomfort in your body. Just being able to observe is a significant start.
Release and Lengthen: Just as Mr. Hyde returns into Dr. Jekyll, release any unnecessary tension in your body. Allow your spine to lengthen, your head to balance effortlessly atop your neck, and your shoulders to widen. The classic phrase in the Alexander Technique is to "let your neck be free, to let your head go forward and up, to let your back lengthen and widen".
Find Balance: Seek balance and poise in your posture. Much like Jekyll's upright stance, the Alexander Technique teaches you to find a harmonious equilibrium in your body. Posture is an unstable equilibrium, and is essentially a subtle movement rather than a position.
Breathe: As you improve your posture, you'll find that your breath becomes freer and deeper. Breathing plays a significant role in our overall well-being, just as Jekyll's good behavior defines his character.
Embrace Your Inner Jekyll
This Halloween, embrace your inner Jekyll by exploring the wonders of the Alexander Technique. By improving your posture and finding your own inner balance, you can transform yourself from the hunched Mr. Hyde into the poised and confident Dr. Jekyll.
In the spirit of Halloween, let the tale of these two characters remind you that your posture is more than just a physical display. It reflects your inner self, and with the right thinking, you can unlock your inner Jekyll, revealing your best self to the world. Happy Halloween, and here's to a transformed, supported, and balanced you!